Profit with a wall printing machine can vary depending on the projects where the machine is used, your target audience and your marketing strategies. However, it is possible to earn quite high profits in this sector, especially when services are provided with original and creative designs. In addition, thanks to low operating costs and a fast payback period, you can amortize your investment in a short time. Now let's do a little math with you;
| Your Average Square Meter Sales Price | Square Meters of Print Sold Per Month | Total Revenue |
| --- | --- | --- |
| 150£ / Square meter | 20 square meters | 3000£ |
| 200£ / Square meter | 40 square meters | 8000£ |
Ink cost is one of the smallest expenses in your print sales. As Tudox Wall Printer, you can print an average of 100 to 120 square meters with 1 set of ink we sell. 1 set of ink will cost you only $160. Based on the calculations above, 1 set of ink will last you 3 to 6 months on average. Of course, this may vary depending on your printing intensity.
Tudox is a manufacturer of innovative and quality solutions in the wall printing machine sector. It stands out in the sector with its approach that prioritizes customer satisfaction, continuous R&D studies and technical support services. Tudox offers its users not only a machine, but also a business partner.
In conclusion, the wall printing machine is an innovative technology with great potential in the decoration and advertising sectors. With Tudox, you can maximize this potential and serve your customers with quality and unique prints. As Tudox Wall Printer, you can easily get service from us in all kinds of issues such as technical support, spare parts supply, ink supply.
Wall Printing Machine Prices
Wall printing machine prices may vary depending on the features, brand, model and performance of the device. However, when investing in a quality wall printing machine, factors such as the longevity of the device, print quality and technical support should be considered rather than the price. With its leading position in the industry, Tudox offers its users a choice of affordable and high-performance machines.
Wall Printing Machine: Innovative Solutions from Tudox
Wall decoration is a unique area where art and technology meet. Especially in recent years, thanks to technological developments, the wall printing machine has revolutionized this field. So, what is a wall printer, how are wall printing machine prices determined and how much can you earn with this machine? Here are the answers to all these questions and information about why Tudox should be preferred in this sector.
Tudox Wall Printer - TDX Eco
TDX – Eco, one of our most preferred wall printing machines, is an economical machine with a print length of up to 3 meters with unlimited print width and options. If you have decided to buy this machine, we take you through a 2-day training, laptop, ink set and a process where you will master all the details about the machine. Let's examine the features of this machine together;
TX800 Printer Head: For those seeking clarity and sharpness, the industry-leading TX800 head is ideal.
Extensive Printing Capacity: 200 cm high and 400 cm long for trouble-free printing even on large surfaces.
Fast Printing Capability: Make the most efficient use of your time with print speeds from 2 to 6 square meters per hour.
Portable Size: High mobility with a weight of only 70 kg.
Flexible Rail System: With 3 1.5-meter rails, it easily adapts to work sites of various sizes.
Instant Drying UV Ink: The advantage of printing on different surfaces without leaking with UV ink that dries instantly.
Short Setup Time: The TDX ECO printer takes just 10 minutes to set up and get ready.
Saving Ink Usage: Save costs with low ink consumption.
Minimized Possibility of Error: With guide rails, errors that can occur during printing are reduced.
Why Choose TDX ECO?
Superior Print Quality: Stand out from the competition with the quality provided by the TX800 print head.
Fast Working Possibility: Complete your projects faster with the speed advantage offered by UV ink.
Flexibility: Easy adaptation to various surfaces and spaces.
Economical in the Long Term: Achieve long-term savings with low ink consumption.
The TDX ECO appeals to professionals and hobbyists alike with its large print capacity, fast printing capability and economical ink usage. With this device you will experience the highest quality and speed in your print jobs.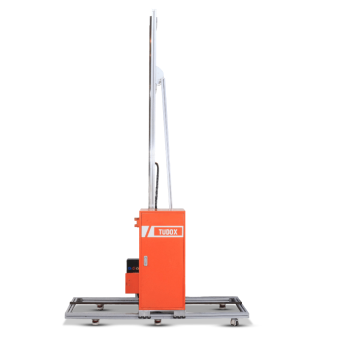 Tudox Wall Printer - TDX W
We would like to proudly state that our TDX W model is unique in the world and is produced entirely in Turkey. You can give your customers a unique experience with this unique machine that can print on both floor and wall. In about 30 seconds, your wall printer turns into a floor printer. Let's talk about the features of this model together;
Multipurpose Use: TUDOX combines wall and floor printing functions in one device. With this feature, you can print on both walls and floors. The need to invest in two separate machines is eliminated, saving both cost and time.
Large Print Area: The TDX-W allows you to create impressive prints on walls up to 290 cm and floors up to 170 cm wide. This capacity is particularly suitable for commercial and large-scale projects.
Stable and Durable Design: With a 1.5*3 guide rail system and a weight of 95 kg, TUDOX offers unwavering stability during printing.
Excellent Color Quality: Featuring a CMYK color channel, the TDX-W prints vibrant and accurate colors, so your prints always come out realistic and bright.
Efficient Printing Capacity: Print speeds from 2 to 6 square meters per hour help you complete even large projects in a short time.
Fully Equipped Package: TUDOX comes with a laptop and UV printing ink kit. This means that all the equipment you may need for your printing jobs is offered to you in a single package.
Comprehensive Training and Support: When you buy the device, you don't just get a machine, you also get in-depth training and ongoing technical support. This is a demonstration that TUDOX values its customers and provides the support they need to succeed.
In conclusion, the TUDOX Wall and Floor Printer is one of the best choices in the industry for its functionality, quality and customer-oriented service.